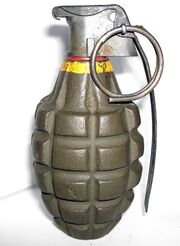 "Pull the pin then throw, it really ain't that complicated" - Anonymous Imperial Guard Instructor
These Grenades use an explosive charge and special fillers of Shrapnel fragments. Imperial Fragmentation Grenades are roughly the size of a clenched fist and covered with a heavily notched shell, both to increase the shrapnel produced and have a more secure grip for throwing.
There are many types of Gragmentation Grenades, pictures here are Cadian, Krieg and Ork pattern Fragmentation Grenades.
Fragmentation Grenade Profile
| Class | Range | Dam | Pen | Special | Wt | Cost | Avail |
| --- | --- | --- | --- | --- | --- | --- | --- |
| Thrown | SBX3 | 2D10X | 0 | Blast(4) | 0.5kg | 10 | Common |